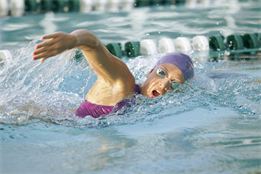 Viofor in sport medicine:
facilitates relaxation, slows down heart beat and breathing

lowers down the concentration of lactic acid after exercise

speeds up organism regeneration

facilitates regeneration of damaged tissues, decreases inflammation


improves blood and lymph circulation

has a calming effect on the mind helping fight stress associated with competitive sports, improves concentration


improves oxygen supply
Viofor JPS has found to be invaluable addition to training regime for many athletes. It can be used either before workout as a part of warming up session or after training to aid body regeneration. Published research confirms faster return to physiological norm after strenuous exercise (on average 30% shorter recovery time in comparison to passive recovery).

Evaluation
of effectiveness based on:
Blood pressure

Heart rate      – return time to normal (starting) values


Breath count

Electrodiagnostic test

Improved circulation and oxygenation of the tissues after treatment also means that you can push your limits even further. The effects of Viofor PMF stimulation method last up to 6 hours hence it is widely used among endurance sport enthusiasts.
The system can be easily transported and used during competition. The possibility to use it in the car or upgrade it with external power supply is an additional future that helps you to use it in an outdoor event or where access to the sockets is limited.
Reference list:
Among customers using Viofor JPS Systems are
KATIUSHA TEAM – RUSSIAN GLOBAL CYCLING PROJECT
National Football Team of Mexico,

Polish Ski Federation,

Russian National Football Team,

CSKA Moscow,

Russian Volleyball Federation, National Men's Team.
National Olympic Committee of Armenia
Football Club (I ligue) "Dynamo" Minsk
National Sports Medicine Institute in Minsk
Olympic Preparation Center "Raubiczy" near Minsk
Regional Sports Clinic in Grodno
Sport Shooting Federation of Belarus Ministry of Sport

Bridgewater Apartman Sp; Canada; B-water; Sport medicine
Chirurgie Sportovní Medicína Ostrava-Mariánske Hory

Bekesi GYMNASTICS; Hungary; Szeged; Gymnastics
Hungarian Sport Training Camp; Hungary; Tata; Sport Medicine

NUPI National Institute for New Generation of Sport; Hungary; Budapest; Research
OSEI National Institute for Sport Medicine; Budapest; Fisiotherapy Hospital